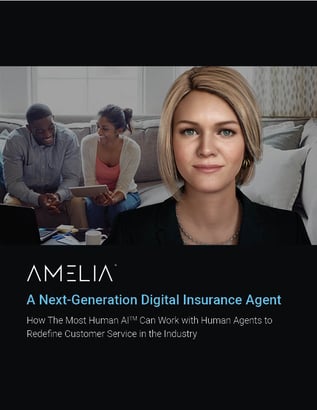 AI is redefining how customers interact with insurance providers. There are more than 50 AI use cases already in operation for insurance companies, and nearly one in five insurers have already implemented at least one AI technology, according to McKinsey. By enabling Conversational AI to handle customer interactions, insurers have improved the speed and accuracy of the services they deliver.
Given the wide variety of insurance use cases for AI, organizations must be cognizant of how best to deploy this technology. In some cases, AI-based agents — in some cases called Digital Colleagues or Digital Employees — can serve alongside human colleagues as assistant agents or "Whisper Agents."
In this white paper, we examine how Amelia, our Digital Colleague, is ideally suited to fill the Whisper Agent role, providing next-generation support and collaboration to human workers, allowing insurance providers to build their own hybrid workforces.

Enter your contact information for our white paper today!