We are honored to be this year's recipient of the 2020 North American Customer Value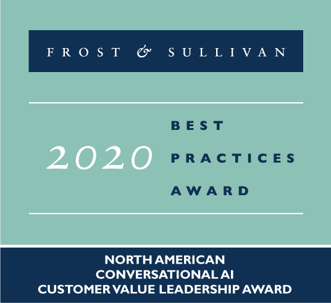 Leadership Award from Frost & Sullivan.
Each year, the analyst firm recognizes a company that has demonstrated excellence in implementing strategies that proactively create value for customers. The award also acknowledges vendors that help to improve return on investment, customer retention and customer base expansion.
Frost & Sullivan cites the successes of three of Amelia's clients — Telefónica, Bankia and BBVA. Each hired Amelia and elevated "self-service to the next level and [enabled] the large-scale deployment of virtual workers that improve both the customer experience and the bottom line," according to the analyst firm.
Download the Frost & Sullivan report to learn why Amelia is a leader in providing customer value, and why our clients have found success using Digital Employees. Read why the analyst firm is confident that Amelia's "customer-centricity, along with a forward-looking strategy, is expected to keep Amelia ahead of the competition in the long term."
Enter your contact information for the Frost & Sullivan report today!