During the past couple of years, Conversational AI vendors have been taking advantage of significant improvements in AI, including machine learning, deep learning, natural language understanding, natural language generation and speech recognition to make Conversational AI systems more intelligent and usable than ever before. These systems are increasingly being used by organizations to scale their operations, improve customer satisfaction, and increase revenue.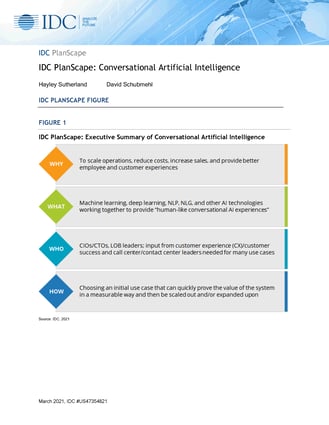 This IDC study provides business and technology leaders with a business case and plan for implementing Conversational AI. It details why it is a critical technology for businesses today, and walks readers through how to set up a project for success using several real-life examples from Amelia clients, including Bankia, Telefónica and Ken Nugent, P.C. Attorneys at Law.
Enter your contact information to receive the report today!